Jefferson Smurfit Plant (JSC) – Monroe, MI
Total Demolition | Abatement | Remediation | Redevelopment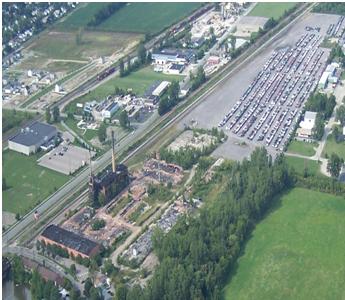 General Project Scope:
The project included the removal and disposal of all asbestos containing materials, the removal and disposal of bulbs, PCB containing ballasts, and other residual waste. The project included the ordered demolition of a 100 feet tall boiler house containing three boilers as well as the demolition of the 500,000 square feet paper manufacturing facility. The project also included the disposal of contaminated groundwater and the removal and closure of UST's and its contents. HOMRICH had taken ownership of this project from Jefferson Smurfit and indemnified them from any future liability through the use of the property transfer. HOMRICH transferred a portion of this property to the State of Michigan to be utilized as a State Park and other portions of the property to the local historical society as the property was the former site of a battlefield of the War of 1812. HOMRICH has able to negotiate with the Michigan Department of Environmental Quality, the EPA and the City of Monroe to complete this project.
Contact Us
Fill out the form below with your information request and someone with HOMRICH will contact you as soon as possible.